Preliminary step for strongly fibrous und complicated substrates
The Mobile Turbo Mash includes a highly effective biological process for the predigestion of difficultly degradable and useable input materials and input mixtures. The flexible and fast reacting aerobic/anaerobic biology allows the production of biogas from difficulty degradable biomass, from its composition of strong fluctuating raw materials and even from lightly toxic contaminated or moldy residual materials. The result of the process is an easier methanising uniform slurry in the fermenter. This allows a short-term and flexible production of biogas throughout the day, so that it is adaptable to the market of electricity demand. With the pre-digestion of the biomass, it is not necessary to build new fermenters in an existing biogas plant because the organic load in the fermenters can be increased.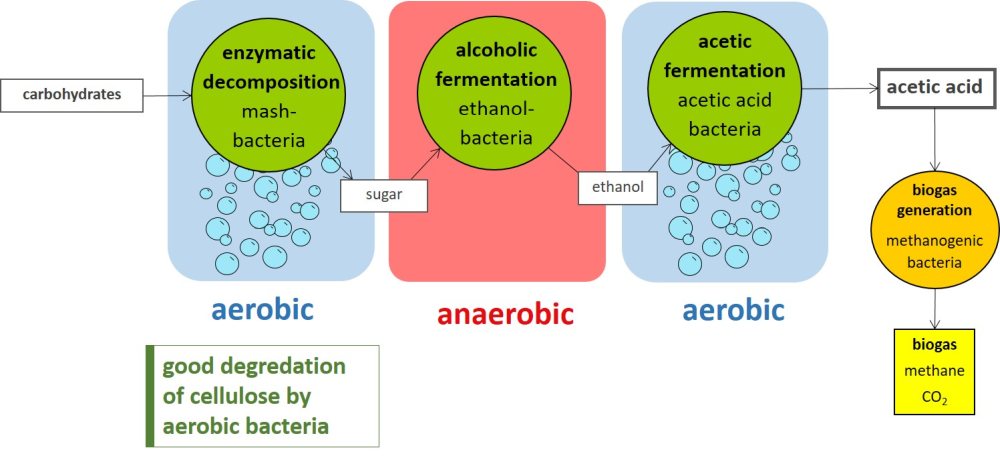 Rotation between aerobic and anaerobic phase
The process of the Mobile Turbo Mash runs through shifting aerobic and anaerobic phases. In the first aerobic step, the substrate containing cellulose is broken down into in soluble sugars. Then, during the anaerobic phase, these sugars are fermented into alcohol. In a second aerobic step the alcohol is turned into acetic acid. The pre-fermented slurry can directly be used by the methane bacteria in the fermenter for the formation of biogas.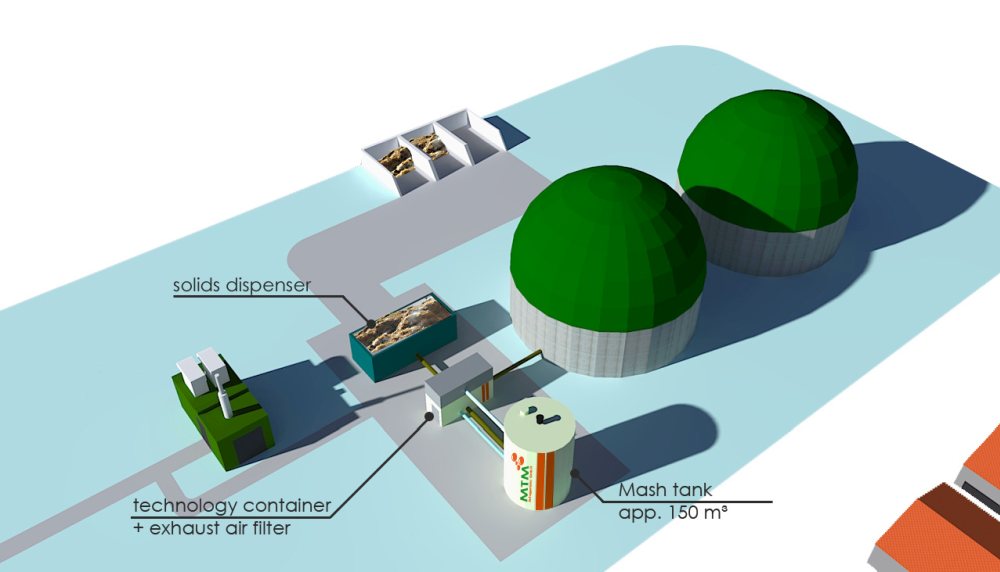 Mobile Turbo Mash – Installation
The entire Mobile Turbo Mash - Installation is modularly built and can be built and installed within a short time. The mash container is delivered in segment plates and is assembled on-site. Due to the short retention time in the Mobile Turbo Mash, a relatively small container of 150 m3 is sufficient.
The Mobile Turbo Mash is fed with liquid mixture at several intervals per day. It is connected in most cases directly to the current the solid materials doser and to the liquid input. All the necessary components, mixing device, pumps, compressor, heat distribution and control systems are delivered in a separated and completely mounted technical container.
The exhaust air, which is mostly composed of oxygen, carbon dioxide and nitrogen, is purified through a bio filter. This enables odor emissions to be safely prevented.
The Mobile Turbo Mash is run at 30 - 38°C and needs a low heating energy. It is integrated in the current heating circuit of the biogas plant.
Do you have any questions or want to know more about our services? You are also welcome to contact us directly